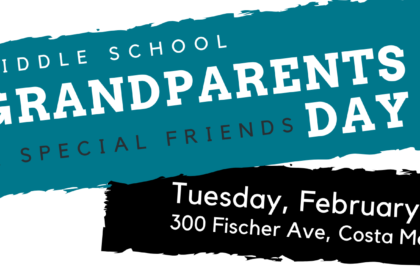 Dear Middle School Parents,
We are looking forward to our Middle School Grandparents and Special Friends Day event on Tuesday, February 11th. If you are new to MCS, this is a wonderful opportunity for the grandparents, or an important person in your child's life, to come to our campus for a snapshot of our middle school.
Our guests are invited to view the exhibits, shop at our student vendor booth, and enjoy light refreshments in the gym at 10:30 followed by a special program at 11:00 in our Argyros Center for Worship and Performing Arts. Following the program, students with guests in attendance will be released from class to join them for the pre-ordered lunch.
To preserve important instructional time, we respectfully request that students remain on campus for the entire day. In order to provide quality time together, we are offering an opportunity for our guests to stay on campus to eat lunch with their student. This lunch will be provided by TK Burgers and ordered by middle school parents for their student's guests. It is offered on a pre-order basis.
Grandparents and Special Friends have been instructed on the invitation to contact you (the parent) about purchasing and coordinating lunch. The TK-Burgers online order link (for parents) is as follows: http://marinerscs.org/tot-feb2020
February 11th TK Burgers Lunch orders must be placed no later than 02/08. Late orders will not be accepted. Please note: TK Burgers orders will not be accepted for elementary students as this event is exclusively for our middle school students and their guests.
Grandparents and Special Friends are asked to RSVP to the event at this link. This link will be included on the invitation you send to them but you may want to remind them.
The invitation can be printed so that you may hand-deliver or email it to the grandparents or special friends in your family who may want to join us. Click here to download the invitation. You may also pick up a copy in the MCS lobby. Be sure to pre-order the number of lunches needed for your child and guest(s) no later than 02/08.
The RSVP does not include the lunch order which is to be submitted by parents separately. If you have questions about the event, please contact Mrs. Celek, Community Connector, at scelek@marinerscs.org.
We look forward to this event and the opportunity to meet the important people in your child's life.
Sincerely,
Heather Harrison, Interim Head of School and Middle School Principal