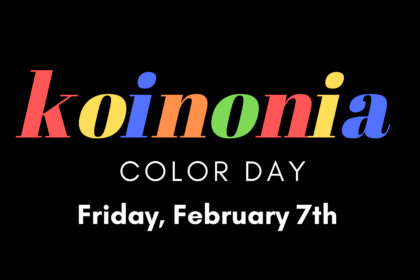 Dear MCS Community,
The impact of last weekend's tragedy is profound and the heartbreak, felt across the community, families, friends and schools, runs deep. God's Word clearly tells us that we are to carry each other's burdens (Galatians 6:2), love each other deeply (1 Peter 4:8), devote ourselves to praying for each other, meet one another's needs (Acts 2) and, if someone falls, we are to help them up (Ecclesiastes 4:10). We want to be a community of believers that actively lives out these callings. It is with this heart that we invite the entire MCS community to participate in Koinonia Color Day next Friday, February 7th.
The Greek word, koinonia, can be translated as community. However, it is more than a word. It is an intention to be in communion or fellowship with one another in a manner that jointly meets a need and unifies the body of Christ. Our Koinonia Color Day will reflect this unified heart to demonstrate love and prayerful support to families and schools directly impacted by loss. We are hopeful that the entire MCS community will participate in the following ways:
Support with Color Dress: As a grade level, wear the colors of the schools in our community who have experienced the loss of students, parents, and staff. The entire school will assemble for a picture at 8:10am which will be sent with a loving message to our brothers and sisters at these schools.

TK-1st: Red for St. Margaret's Episcopal School
2nd – 3rd: Blue for Ensign Intermediate
4th – 5th: Gold/Yellow for Harbor Day School
Middle School: Orange for Orange Coast College
Support with Prayer: By far, this is the most important thing we can do! Following our school wide picture, all students will return to class and be led in a time of community prayer by their teachers. In addition, all parents are invited to attend Parents in Prayer starting at 8:30am in the ASP room to pray together. How beautiful it will be to have our entire community praying, at the same time, for our brothers and sisters.
Support with Generosity: Students are encouraged to bring in a cash donation of their choosing on this day. Teachers will collect funds which will be donated by MCS to the MambaOnThree Fund created by Vanessa Bryant to honor and support loved ones of the seven other victims of the tragedy.
Let's be a community that carries burdens, loves deeply, and prays faithfully. Let's be a community that stands with the hurting, responds willingly to meet needs, and humbly lifts one another up. Let's be koinonia! Please join us so that we, the entire MCS community, Reflect the Son to those who desperately need to experience God's comfort and the nearness of Jesus.
In Him,
Heather Harrison
Interim Head of School