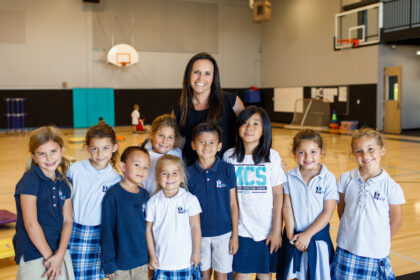 Dear MCS,
We continue to celebrate God's goodness and favor over MCS. Not only do we have our waiver but, as announced last night, God has made a way for us to begin the year together, in person! A construction delay cannot stop God! For those that tuned in, you are aware that we will open for in-person learning from the first day of school because of extreme generosity from Mariners Church. The church is opening their campus to us so that we can be together for in-person learning from the first day of school. We are celebrating this amazing answer to prayer and so thankful for Mariners Church. Highlights from this announcement last night include:
Mariners Church will host MCS for the first 3.5 weeks of school until we are back on our campus, in a beautiful new building which is another gift from God.
Due to specified parameters, the following adjustments will be made for the time period that we will hold school at Mariners Church:

Modified Daily Schedule for all Grades: 8:00-12:30, carpool will begin at 7:30
Weekly Enrichment Camps: Each grade level will be invited to attend a weekly after school enrichment program on the campus of MCS.
Meet the Teacher Day and First Day of School Adjustments: Meet the Teacher Day will now be held on Wednesday, September 16th and the first day of school on Thursday, September 17th. An additional school day has been added to the end of the year to preserve the same number of instructional days. The last day of school is now Thursday, June 17th.
Planning is underway for our in-person start at Mariners Church. We are also ready to launch our remote learning for the students whose family has made that selection. Both in-person instruction and remote learning will begin on Thursday, September 17th. Next week, families can expect full, detailed communication for Meet the Teacher Day, in-person learning at Mariners Church, and remote learning. In addition to program specific communications, over the next two weeks families will receive information on various protocols and practices including carpool at Mariners Church and morning health screening procedures. Be on the lookout for all of those details coming your way.
And, the good news and abundant blessings continue! I am thrilled to announce the appointment of our elementary vice principal, Mrs. Sue Celek. Mrs. Celek has faithfully and lovingly served MCS for 27 years. Throughout these years she has said "yes" to every role God has placed before her from teacher, to vice principal, to principal, to Community Connector and now interim vice principal. She loves MCS, the staff, the students, and families with her whole heart and, most importantly, she loves Jesus. We are so excited she has said "yes" to this calling and in this season. Please join me in celebrating this appointment.
In the video message sent Monday, I shared a prayer over MCS from Hebrews 10:23, "Let us hold unswervingly to the hope we profess, for He who promised is faithful." We are seeing and experiencing God's faithfulness. Praise God from whom all blessings flow!
Celebrating God's goodness,
Heather Harrison
Head of School