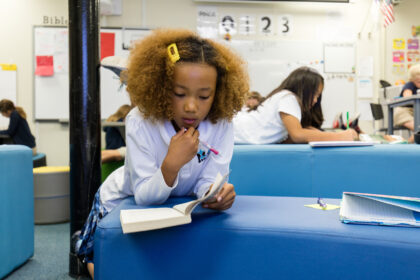 Dear Parents,
The entire MCS community is continually on my heart and mind; from our beloved staff, our amazing students and their parents, to our faithful partners. I have specifically prayed for God's presence to fill you to overflowing as you rest, relax, and enjoy quality family time this summer. We all recognize our need for His presence in our daily lives, communities, and the world and I pray that you experience Him in ways that are unique and specific to you.
Also, at front and center is the 2020-21 school year, which I am sure is on your minds as well. Thank you for the extension of patience as we navigate through all matters related to the Fall reopening.
As previously communicated, our plan and intention is to fully reopen this Fall. This plan has not changed and, barring any significant changes in local health or mandated restriction, this plan will not change. We eagerly look forward to Meet the Teacher Day on Tuesday, September 15th and welcoming our students on campus the next day for the first day of school in our newly-completed campus! We are unwavering in our dedication to the school's mission of "building a firm foundation through Christ-centered education" as we pursue our core values of Love for Christ, Exemplary Academics, Connected Community, Whole Child Focus, and a Culture of Innovation. These are our highest values and being together, on campus, is vital for achieving these and fostering the academic, social, spiritual, and emotional growth of our students. We want nothing more than to be back together with our students and community!
With the decision to reopen in the Fall in place, our next few months will be devoted to determining any necessary guidelines, practices, and programs to support our return while prioritizing the health and safety of all members of our community. We recognize the varying family situations, preferences, and needs. It is with this in mind that we invite parents to complete a survey, as your input will help inform decisions and plans. Please take a few moments to complete this survey.
As a school team, we confidently agree that there is tremendous wisdom in taking additional time to monitor, research, gather feedback from all stakeholders, and better understand local realities before determining reopening details. These decisions will be based on what is in the best interest of the MCS community including our staff and families and will be communicated in mid August, a full month ahead of reopening.
Continued patience, understanding and prayers are appreciated as we navigate through extremely unclear, continually changing, and difficult times. First and foremost, MCS is a community of believers, bonded as brothers and sisters in Christ, united in His purpose and mission. We are grateful for a united posture through an extension of grace, understanding, and love. Thank you for this vital care and unity. 2 Chronicles 20:12 says, "Lord we don't know what to do, but our eyes are on you." Yes and amen!
In His Service,
Heather Harrison
Head of School