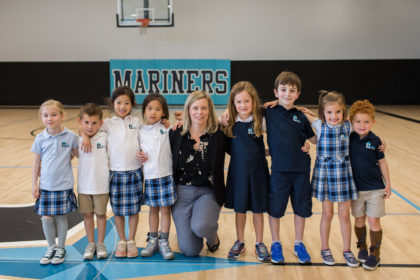 Our Head of School search has successfully concluded and we are elated to announce Heather Harrison as our next Head of School, effective immediately!
Starting in December 2019, the Search Committee, Advisory Committee, our search firm (Job Fit Matters), and an organizational consultant launched a thorough, extensive national search process which generated 40+ initial candidates. Our Search Committee and Advisory Committee were composed of current and former parents, school staff, current and past MCS Board members, and a current MCS grandparent. They met regularly and often throughout this process. After multiple rounds of interviews, the Search Committee presented the unanimously-supported recommendation to the Board that Heather was the ideal choice for the next MCS Head of School. The Board approved this recommendation with a unanimous vote. Throughout this past school year, she's demonstrated grace, humility, excellent communication, and exemplary, prayerful leadership, all while maintaining a sharp focus on God and His direction for MCS. She's led her team fearlessly and successfully, as evidenced by the 100% of our teachers' intent-to-return rate for the 2020-21 school year.
Heather brings 19 years of distinguished experience in education to this role, including 10 years of teaching, and 9 years of administrative leadership experience. She has served as Middle School principal at MCS since 2013, and most recently has also served as Interim Head of School after obediently answering God's calling to that role in August 2019. She has a deep love for MCS, and she has clearly demonstrated her strength as a godly, prayerful leader during this school year which has presented many significant challenges. Heather holds a Masters degree in Education from Vanguard University. She and her husband Josh have three children: two MCS alum daughters Buze and Marta, and one current student son Elijah in Kindergarten. Josh is the co-lead pastor at Canopy Church and Heather serves in ministry with him.
Our Board's focus has been and remains selection of a godly leader, revision of Board governance/policies and investment in building a high-trust culture. These efforts are intended to develop a lasting working partnership between the Head of School, Board, administrative team and staff and to maximize school leadership longevity. We're committed to continuing a godly and supportive relationship with Heather and her team, laying out clear expectations and providing guidance and resources as needed. Importantly, our approach remains steadfast in maintaining MCS's mission to build a firm foundation through Christ-centered education. Accordingly, we're confident that His school is on a solid path with a strong strategic plan that's been formulated in partnership with school leadership and staff.
We are deeply grateful for the support, feedback, and prayers we've received from the community throughout this search. Thank you!
Each of you should use whatever gift you have received to serve others, as faithful stewards of God's grace in its various forms.

1 Peter 4:10
We're sincerely appreciative of the time and energy that our Search Committee and Advisory Committee members have put into this rigorous process: Mark Nowlin (Co-Chair), Ruth Sanchez Kobayashi (Co-Chair), Marc Aneed, Tim Bahadoor, Lewis Brewster, Bob Bernatz, Clifton Chang, Melinda Choi, Jennifer Crowell, Sharee Pfaff, Jim Harmon, Aaron Hudy, David Giunta, Keven Kroehler, Susan Morehouse, Chris Stratton, Eleanor Tang, and Mitch Vance.