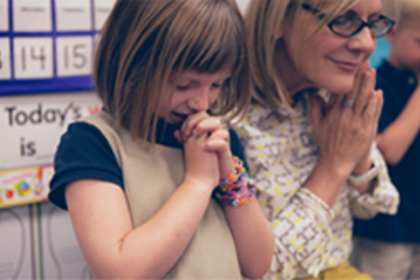 Dear Parents,
The first day of school is quickly approaching and we are excited to welcome students to the 2020-21 school year. With great confidence, we trust that God will move mightily throughout the year. We are confident every child will grow and mature academically, spiritually, and relationally. We are committed to continual partnership with families as, together, we "build a firm foundation through Christ-centered education."
As announced last week, we will begin our school year on the campus of
Mariners Church
. We are grateful for the support and generosity that has provided a home for in-person learning from the first day of school, Thursday, September 17th through Friday, October 9th. It is with great excitement that we look forward to returning to the completed MCS campus on Monday, October 12th.
In preparation for the upcoming school year, please carefully review all information included in this communication as it outlines important details for all learners as well as specific information for in-person and remote learning.
Important Details for All Families and Students: In-person Learning and Remote Learning
Meet the Teacher Day
Save the date for this year's
Meet the Teacher Day on Wednesday, September 16th from 9:00-12:00 at Mariners Church
. Check out the save the date flyer
here
and be on the lookout for additional details coming soon.
Return to Campus Consent Form
All families, whether in-person or remote, are required to complete a Return to Campus Consent Form. The form is to be completed by logging into the
parent's portal
, selecting the "You have forms to complete" notification, electronically signing the form (only one parent required), and submitting. The form is due no later than Friday, September 11th.
The Return to Campus Consent Form is based upon the guidelines outlined in the
MCS Reopening Plan
. The entirety of the plan will be implemented from the first day of school.
Daily At-Home Health Screening
Whether in-person or remote, all families are expected to be familiar with the Daily At-Home Health Screening requirement. Parents are expected to complete this health screening every morning before arriving to school. In the event that a student transitions from remote learning to in-person, families are expected to immediately implement these procedures. The Daily At-Home Health Screening can be found
here
.
School Hours Thursday, September 17th through Friday, October 9th
School hours for all students, in-person and remote, will follow this daily schedule for the first few weeks of school:
Start Time: 8:00 am
End Time: 12:30 pm
Note: We will NOT have Late Start Wednesday until Wednesday, October 14th.
The daily schedules during this timeframe can be viewed
here
for elementary and
here
for middle school.
We will resume the normal, full day schedule on Monday, October 12th including staggered start and dismissal times. To review this schedule, click
here
.
School and Classroom Supplies
The required school supply lists for each grade previously provided and can be found
here
. However, at this time, no classroom supplies will be collected. Instead, until our return to MCS campus, only personal supplies will be required for each student as follows:
Important Information for In-Person Learning
Daily Arrival Procedures
Morning drop-off at Mariners Church will begin at 7:30 am. All students must be dropped off no later than 7:55 to allow for a prompt start time of 8:00.
Upon arrival, all students will remain in the car until their temperature is checked by school staff. Those with a temperature above normal, will be directed to receive a secondary temperature check by the school nurse. Upon confirmation of a fever higher than 100.4, the student will not be permitted to attend school. We ask that all families do not bring their child to school with any form of fever. This will eliminate any concern upon arrival.
Next week, a Carpool Tutorial Video will be provided demonstrating designated carpool entrances at Mariners Church, driving route, drop-off area and procedures, health screening practices, and exit routes. Carpool will be different and we will make sure all are prepared for these new procedures. In advance, we ask for your patience and flexibility as adjustments may be necessary once school begins.
Late Arrivals, Early Check Outs, Health Office
Students who arrive after morning carpool must report to the "MCS Reception" desk located off the Upper Parking/Worship Center Lot. This is the same area as carpool. Next week's carpool video will indicate this location.
Due to the modified school day while we are at Mariners Church, we highly encourage parents to avoid early check outs. In the event it is necessary, students can be checked out at the "MCS Reception" desk.
MCS will have a designated Health Office area while at Mariners Church. This will be staffed by our school nurse and additional health aid(s). The health of our students is paramount and will be prioritized at all times. In the event that a child becomes ill during the school day, the parent will be contacted and the student sent home. Parents picking up an ill child will check in at the "MCS Reception" desk.
After School Enrichment Camps
We are excited to offer optional, grade level, after school enrichment camps to students grades Kindergarten through 8th grade. These camps will be held beginning Monday, September 21 through Friday, October 9th. Potential offerings beyond these dates are also being explored. The enrichment camp schedule and details will be provided during the week of September 14th. All students, whether remote or in-person, are invited to participate in these enrichment activities.
Important Information for Remote Learners
Important information for remote learners will be provided by divisional principals this Friday, September 4th. These details will include the remote learning schedule for the first weeks of school, orientation and technology training for students and parents, supplies and curriculum distribution details, and expectations for remote learners and parents.
In Him,
Heather Harrison
Head of School
Sam Joo
Middle School Principal
Angela Drevlow
Elementary Principal