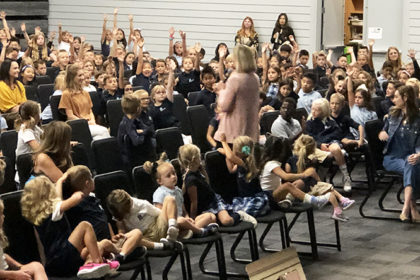 Elementary students learn more about our theme… Reflect the Son!
In this Monday's TK through 5th grade chapel, Mrs. Harrison shared that the only way we will reflect Jesus is if we keep our eyes on Him and our ears tuned to His voice. This was illustrated through a fun game with a few elementary teachers who were tasked with painting a specific image of a butterfly on their cheek. One teacher, Mrs. Petrarca, was provided a mirror and the picture of a butterfly so that image created on her cheek was the right and true image. The next teacher, Mrs. Majkrzak, did not see the picture or have the mirror but could only look at Mrs. Petrarca to try to create the image. You can probably imagine that butterfly image created on her cheek was not the right and true image. And the hardest one of all? Ms. Kish had the toughest job because all she had was three students who were tasked to describe what they thought the image should look like. It's probably no surprise that Ms. Kish's attempt didn't really turn out to be much of a butterfly at all. (continued)
Mrs. Harrison then connected that game to our theme and shared with students that the only way we, as Jesus followers, can Reflect the Son is if we look to Jesus, watch Jesus, learn about Jesus, and listen to Him and only Him. If we do that, then the right and true image of Jesus will be created in us and we will Reflect the Son. Enjoy the short video clips below.