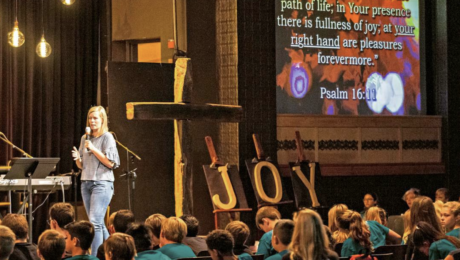 Dear MCS Community,
We continue to work diligently and tirelessly as we plan for the re-opening of Mariners Christian School this fall. As I've always stated, the goal and greatest desire is to re-open on September 15th for in-school learning. This remains unchanged and all attention is aimed toward this effort. This communication provides the context for current planning and to outline what parents can expect over the next few weeks.
What programs will be offered for next year?
It is exciting to confirm that MCS will offer parallel educational programs: in-school learning and remote learning, for the duration of the 2020-21 school year. Details outlining the remote learning program, requirements for length of commitment to the program, and the process for enrolling will be provided next week.
What are we doing right now?
Important steps are being taken to ensure we are able to open and remain safely open. Hundreds of hours of research, collaboration, consultation, and planning have occurred over the last several months. Most notably:
Understand all guidelines and requirements for a safe re-opening

Monitor OC health statistics and facts and collect data from both staff and parents to inform decisions

Consultation with legal counsel, Western Association of Schools and Colleges (MCS's accreditation body), and school insurance agents

Collaboration with a consortium of Christian and independent private schools

Consultation with medical experts

Complete multiple trainings: health, safe practices, workplace and employee protections

Establishment of a "Fall Reopening Planning Committee" with 17+ individuals representing all MCS stakeholders

Order necessary safety-related supplies and equipment

Completion of the school re-opening waiver released 8/3/2020. Important Note: though the waiver only applies to TK-6th grade, 7th and 8th grade parents, do not lose heart! We are working to provide in-person learning for all of our students. Additional details regarding the waiver approval and in-person learning opportunities for all students will be provided as possible over the next couple of weeks.
What are the priorities guiding our decisions and planning?
We endeavor to make the most informed and best decisions for our entire school community. These are our priorities guiding all decisions:
Prayer and seeking God's wisdom and will above all

Fulfilling the school's mission to "build a firm foundation through Christ-centered education" and our core values of a Love for Christ, Exemplary Academics, Whole Child Focus, Culture of Innovation, and Connected Community

Returning to in-school learning

Seeking the best interest of our students to meet spiritual, academic, emotional, social, and physical needs while also considering the best interest of families

Seeking the best interest of our staff as we understand and prioritize their health and safety needs, assumed risks, comfort levels, as well as the best interest of their families. MCS staff interests are vital and will be prioritized as we open the school. It is vital families recognize the importance of our staff's well-being.

Protecting the long term stability and sustainability of MCS. This is temporary. Our current situation related to COVID-19 will pass, therefore we will make decisions that meet current needs while balancing the long-term interests of the school. Current decisions can not and will not jeopardize or negatively impact the future of our school.

Opening safely AND remaining open which will provide the most stability, best meet needs, and ensure the greatest success for all.
What are we humbly asking of our MCS families?
We are truly in this together. How we respond individually and collectively sets us apart and ensures unity and peace within our community. We each have an important role to play.. Be confident that we are with you, for you, love you, and are fighting for you and our school. We ask the same from our families. Specifically:
We humbly ask for your faithful commitment to praying with us and for us. There is power in a praying community and we fully recognize our need for prayer. It is vital to each of us and it binds us together in unity. And, with great confidence we trust that God answers prayers! So we ask that you, "Pray in the Spirit on all occasions, with all kinds of prayers and requests. With this in mind, be alert and always keep on praying for all the Lord's people" Ephesians 6:18.

We ask for your continued understanding, grace, kindness, patience, and trust. Rest assured we are working diligently on your behalf and no stone is left unturned. We fully recognize the need for clarity, information, and, as much as possible, certainty about the year ahead. It is vital that families understand our complete efforts and investment in providing information that is needed. In addition, we ask that parents know we will do everything and anything necessary to ensure our students can return to campus. With sincere hearts we ask, just as Peter did of the church, "Finally, all of you, be like-minded, be sympathetic, love one another, be compassionate, and humble" 1 Peter 3:8.

We thank you for your commitment. Just as MCS will not make temporary decisions that could potentially have a negative impact on our long term future, we ask parents to prayerfully consider all decisions and remain committed to MCS. Our admissions team is busier than ever as we continue to enroll new students. We currently have waitlists in several grades with other grades very close to full capacity. We will continue to enroll students according to our enrollment and operating plan. As always, current families have priority for 2021-2022 reenrollment. Given the extreme interest we have experienced in the past several years to attend MCS, we cannot guarantee future enrollment unless you are currently enrolled for this school year. Please understand and trust, this is only shared to ensure families can take all information into consideration as decisions are made for the upcoming school year and beyond. We love our community and our genuine hope is that we remain together through this storm and we will be stronger for it!
What can families expect next?
Next week, the full "Fall 2020 Reopening Plan" will be provided to families. This plan will outline all health and safety guidelines for in-school learning including, but not limited to, health protocols, hygiene practices, face coverings, cleaning procedures, and health screenings. In addition, full details regarding the in-person and remote learning programs will be provided. Beyond next week, families can expect weekly communication providing necessary and timely information related to the start of the 2020 school year.
One of MCS's greatest markers and distinctions is our Christian community. We are forever grateful for every member of this community. We give continual thanks for your partnership, prayer, and commitment to MCS.
In Him,
Heather Harrison
Head of School