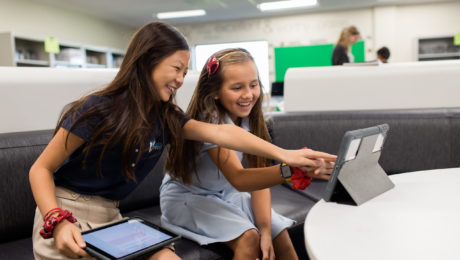 MCS Mission Prevails through COVID-19 Pandemic
On March 12, MCS announced a proactive school closure in an effort to stem the spread of the novel coronavirus, COVID-19. In the weeks leading up to this decision, teachers and students were being prepared and trained to transition our TK-8th grade students to a full-scale remote learning program, which put us in a strong position for the closure. Within 72 hours, our administration, teachers, and IT team successfully launched the plan. Rooted in our Core Values, our remote learning program allows all MCS students to continue progressing through the 2019-20 school year in spite of present circumstances, connecting our MCS Community in Spirit and purpose as we walk this unprecedented journey together.
The MCS Mission is now more important than ever.  Whether remote or in person, our staff is "building a firm foundation through Christ-centered education" in the hearts and minds of students.  We are harnessing the power of Next Generation technology to ensure that each child's academic and spiritual growth continues uninterrupted during this season.

Parent Preparation Key for Remote Learning
Preparation of MCS parents was paramount to a successful transition to home learning. Through a dedicated webpage, we provided parents with a central place to locate all necessary resources, including Daily Schedules, Community Updates, Enrichment Class Board, and 14 Helpful Tips for Supporting Remote Learning.  Our parents have expressed their gratitude for the level of prayerful, intentional care provided by our staff during this sudden shift to home learning.
Foundation of Next Generation Technology is Springboard
Because of our historically strong integration of technology within academic programming, the vast majority of our students were well-equipped to make the transition.  Middle School in particular had a solid foundation of student-ownership in learning via Schoology and a 1:1 iPad program, allowing for the switch from on campus to off to transition more smoothly.  We quickly integrated the Zoom video-conferencing platform to support our instructional needs in all grades, while elementary teachers walked students through the process with loads of patience and TLC.
Continuation of MCS Exemplary Academic Program
To-date, every student has been equipped with the necessary technology and resources to continue learning pathways in all subjects, including enrichment classes for Whole Child instruction. Our specialist teachers created a phenomenal Enrichment Learning Board with videos, lessons, and options for students to supplement their core curriculum each day.
Students have been provided with daily schedules that require them to login to a video conferencing platform for lectures, group discussions/activities, and more.  Their daily school schedule is supported by teachers who are dedicated to building relationships with each student, including 1:1 facetime and small group instruction with students who need extra support.  In fact, our Student Support Program, which provides vital academic support for many students, is in full swing with study sessions and individual check-ins scheduled throughout the school day.  
Parent feedback to our Remote Learning Program has been tremendously positive!  Social media comments, emails, and texts have poured in with supportive feedback on the homefront.  Passionate about their students, our teachers have been burning the midnight oil to build a program that is engaging and comprehensive as well as fluid and responsive to the present quarantine.
Prioritizing Spiritual Enrichment
MCS teachers and administrators have gone above and beyond to partner with parents and ensure students are including time to pray, worship, and study God's word. 
Our Bible teachers are producing a video curriculum for TK – 5th grade, as well as teaching two interactive middle school Bible classes every week. In addition to studying God's word in the classroom, teachers are continuing to start each class with prayer, and incorporating times of worship when possible. 
Daily Devotionals are being offered to students and parents.  Each day, a new morning devotional is posted so that families can begin their day with encouragement and teaching from God's Word.
Maintaining Connection as an MCS Community
MCS will not be deterred in our efforts to build community during this challenging time.  In addition to providing daily devotionals, we're leveraging our social media to maintain a connected community. We recently launched MCS Community Challenges which encourage families to share short videos of themselves participating in challenges like sharing something they're thankful for or showing off their best dance moves. To read up and join the challenge, click here. 
Even our Parents in Prayer committee has embraced the remote concept, and they are continuing to meet online weekly, lifting up prayer needs within our school community as well as requests for our nation and our world. 
Coming soon will be "Acts of Service," an opportunity for MCS students to be the hands and feet of Jesus, salt and light, to the hurting community around us.  Our staff will provide practical ways for them to serve and encourage their neighbors and the world, even while social distancing.
Without question, this has been the biggest global crisis of the Century — yet as a Christian community, in all communications, we encourage each other to continue looking to Jesus, the Author and Finisher of our Faith.  We may not know what will happen next, but we know that HE knows, and we can find comfort and peace in that simple yet irrefutable fact.